Intro & FAQs
Introducing the Auto-paging tool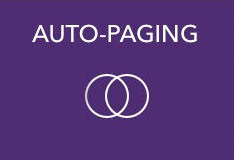 Take the hassle out of page turns – let the app listen and turn when you're ready.
Once activated, this tool listens to you play and turns the page automatically. You can adjust when the page will turn for each piece.
This tool requires access to your microphone.
Please note: The auto-paging tool is available via Tido Music for iPad only.
How do I use the auto-paging tool?

Open a piece and tap to open the auto-paging tool. (It is the 4th tool from left on the toolbar – see the icon above.)
If prompted, allow access to your iPad's microphone. (The tool needs access to your microphone to listen to you play and turn the page at the right moment.)
Adjust the 'turning point' setting as necessary depending on how far in advance you want the page to turn. When the playback line reaches the turning point, the page will turn automatically.
When you're ready to begin, turn the 'On/Off' slider to On.
Start playing! The app will listen and the playback line should move with your performance.
Does the auto-paging tool record me play?

No, the app uses the microphone only to track your performance but does not save any recording of your playback.
Why does this feature not track my playing very well?

The performance of this feature can be affected by many factors. Try the following to see if performance improves:
If your iPad has a case on it, try removing this.
Try putting the iPad on your music stand in a different orientation. Avoid any orientations that may obscure the microphone.
If you are using a digital piano, try turning the volume up.
Please note that the auto-paging feature works best for a full performance of a piece from start to finish rather than random sections or repetitive practice.